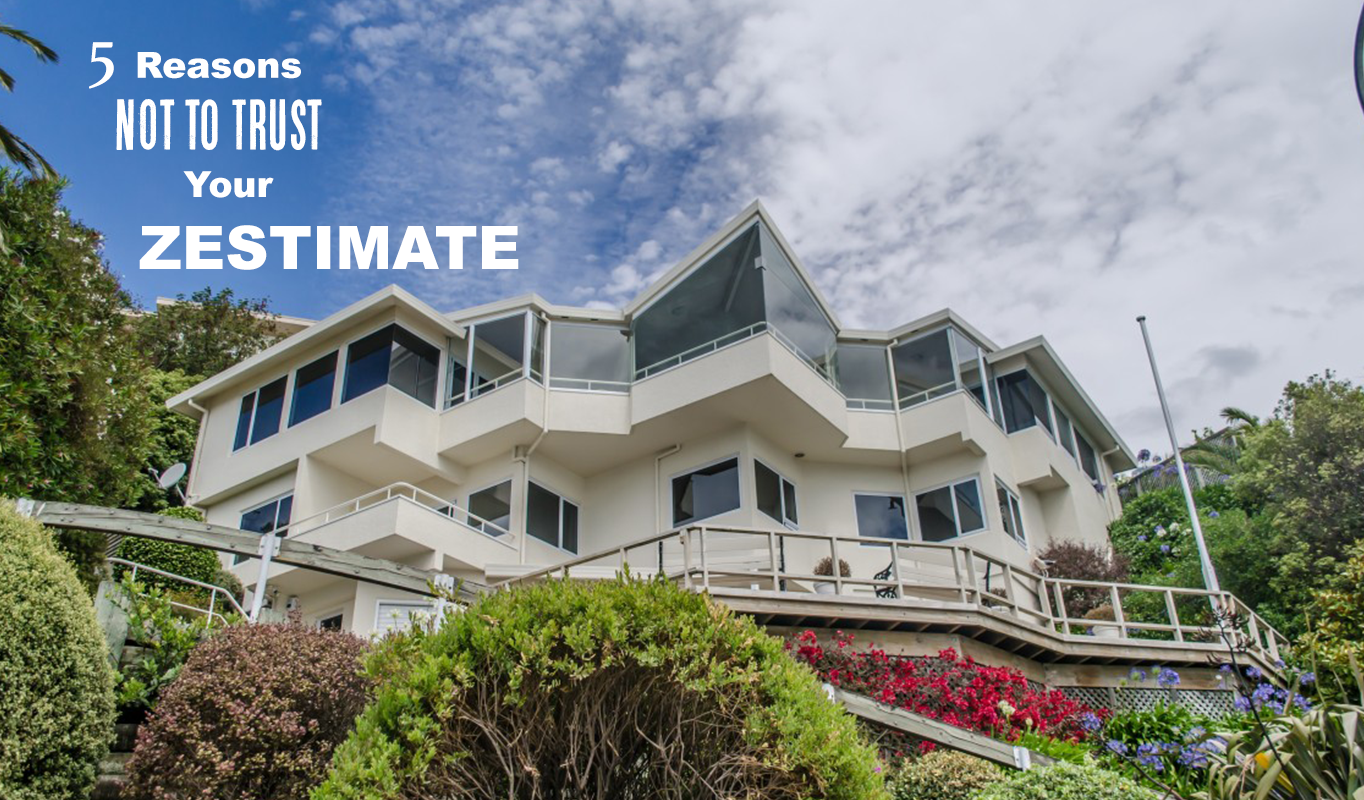 Whether you're in the market to sell your home, buy a new home or just curious what your neighbor's newly listed home looks like on the inside, chances are you will use Zillow. One of their fancier tools is the complimentary Zestimate. However, before you dive in head first and believe what they're telling you, here are 5 reasons why you may want to think twice.
1. It Doesn't Account for Quality
I don't know about you, but when it comes to buying a new home – the quality matters. My husband and I love to cook! The kitchen is my favorite room in the house, and one where Family and Friends tend to gather. Needless to say, I want a nice kitchen! Now, I may not be able to afford the kitchen of my dreams today, but even if I could the Zestimate wouldn't be able to understand that. Zillow doesn't measure the quality of materials, design, or construction.
2. It Doesn't Consider Land
So, I was scrolling through the pages of Zillow yesterday, and found this gorgeous home on a 65 acre lot. Now, the $3.3 Million price tag is not remotely close to my budget, but the Zestimate was! As the owner of two spoiled labrador retrievers, who love to run, a large yard is a must! I was shocked that it told me it should cost about $285,000. Maybe the house alone could end up at about that, but nobody can buy 65 acres on the East Coast for anything close to that price.
3. It Gives Me False Hopes
When you're looking for a house, it's almost like when you are scrolling through Pinterest. You see all of these great things you'd like to have in your new home, if only you could afford it all. But with Zillow, I think I can actually have these things. I walk into a house, fall in love with the crown molding and intricate designs, and think maybe this could be mine. Hint: It can't… Zillow Crushed my Dreams.
4. It Doesn't Understand Damage
Zillow doesn't keep up to date with damage to houses. So, if this house was recently flooded and was likely to need $50k in repairs… the Zestimate would be the same as if it was new construction. Be sure to keep in mind, when you are considering the price of buying a new construction house, that has absolutely no damage and comparing it to a 60 year old house that needs a new foundation or a new roof, the price remains the same to Zillow.
5. It's Not Up to Date
It's always a good idea to get to know your neighbors before buying a home. Being in a stable and safe neighborhood is important to my husband and I. Our neighbors have lived in their home for over 20 years! Everyone I meet seems to have a similar story – which is great for wanting to settle down and raise a family! However, it's not so great in terms of Zillow and it's Zestimate. If your neighbors houses aren't selling often, then Zillow's values of the homes will be highly inaccurate. A house that is really worth much more, just hasn't been evaluated since it was last sold 40 years ago. When you try to go look at a house in that neighborhood, the you're not going to have a realistic expectations.
—
The moral of the story is: don't trust your Zestimate. They measure only by the square foot – but the value of a home isn't measured by square foot.